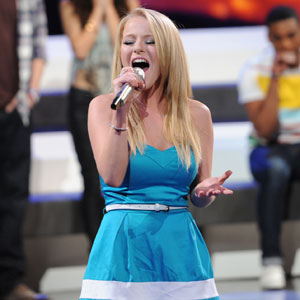 This Cinderella story has come to an end. American Idol's season 11 dark horse Hollie Cavanagh is officially out of the competition, but don't expect any tears from the 18-year-old singer!
We chatted with Hollie about her elimination and why she wasn't shocked to go home. Plus, she dishes on the remaining three contestants, her special connection with Jennifer Lopez and defends her final song choice! While some fans were shocked by how well Hollie took the news that she was going home, the singer tells us that she was prepared to go home. "There was definitely something different about that Thursday. I'm not sure what it was, but I guess it was just my gut telling me," she says. "I was preparing myself for it, but at the same time staying hopeful because you never know what could happen. I'm not quite sure what the feeling was, but it was just different than every other Thursday."
Something that helped prepare Hollie for her elimination? Skylar Laine's exit last week. "I was shocked with that one because Skylar had killed it every week and she had done amazing every week. That was a shock to me," she admits. "This week was just different from something that I felt last week. Skylar kept insisting that it wasn't me going, but you just never know. This week, I just felt it."
Hollie received some criticism for her performance of "I Can't Make You Love Me," which mentor Jimmy Iovine said she didn't really understand the meaning of. "I definitely stand by that song. I love that song and I think the lyrics are so beautiful. I've loved that song for so long and I'm really glad I got to perform," Hollie says. "As far as what Jimmy said, I definitely felt that song and I understood the meaning of it. It didn't come across the way Jimmy wanted it to and that's fine. I rewatched it, and I do agree that there could've been some parts that I did more with, but I stand by it."
Hollie was considered this year's dark horse, a title she's OK with. "I would take it as a compliment. I never really looked into what everyone was saying. I just went up there, and I wanted to improve each week, and I think people were seeing an improvement in me each week. I definitely feel like I've grown so much. I'm proud of that." When it comes to the remaining three contestants, Joshua Ledet (whom Hollie considers her best friend and says they are "attached at the hip"), Phillip Phillips and Jessica Sanchez, Hollie has nothing but kind words to share.
"Phillip is very unique. I mean, the way he performs, you don't see a lot of people perform like that. He has his very own style and his voice is amazing. Josh, he takes you to a whole other place when he sings. He amazes everybody each week," she gushes. "Jessica is only 16 and the way she sings...she sounds like she's in her 20s! She's amazing, as well as the other two. The finale is going to be tough; it's going to be a big one."
Aside from her fellow competitors, Hollie says she has a special connection with Jennifer Lopez, as the judge has championed her since she first auditioned in season 10. "I think I definitely always felt loyal to Jennifer just because she's been with me, she's always been rooting for me and always had my back since last year and always believed in me," Hollie explains. "She's definitely been a big inspiration for me since last year and this year."
Source:
E! Online